Dog Stairs - Raised Feeding Bowls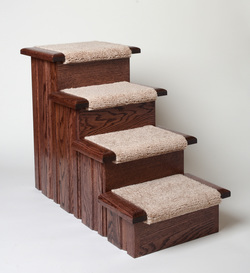 All of our products designed to make your pet's life easier at the same time providing function and beauty.
​We use only the highest Quality Stains and Finishes. These materials resists water marks and scratches and showed to stand up the the rigors of family and pets..
Strong, each individual unit will support over 300 lbs.
5 1/2" tread height perfect for small dogs or dog with limited mobility.
No assembly required.
---
Early American Stain
Cherry Stain
Walnut Stain